Look for us in your area as we travel throughout the Northwest displaying many of the top trophy animals from Oregon, Washington, Idaho, and Montana! Our 2021 Tour may be coming to your town soon, so get those trophies out and bring them to our show to be measured.


The 2021, NW Sportsman shows in Tacoma, Redmond, Puyallup, and Portland are still on schedule. March Madness is coming!! Read more the shows here!


NEW for 2021 ~ PHOTO CONTEST!!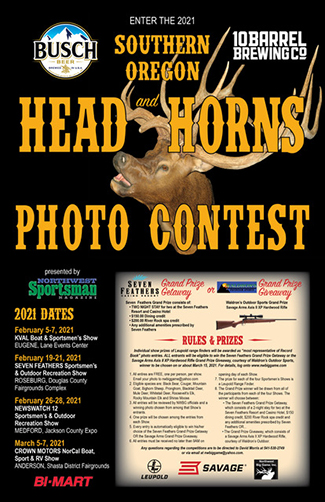 Our 2021, 17th Annual, Southern Oregon Head & Horns Competition offers Thousands in Prizes $$$, including a Grand Prize Getaway to Seven Feathers Casino and Resort & a Savage Arms Axis II XP Hardwood Rifle!

This year, due to Covid-19 restrictions, we will host a big game Photo Contest instead! Read more about it here!


Email your photos to us at NWBIGGAME@YAHOO.COM, with the SUBJECT: 'Southern Oregon Head and Horns Photo Contest' , prior to March 14th! Photos previously shared or used by NW Big Game Inc. are NOT automatically entered in this contest, but must be sent to us again.